Anxiety has taken over your life.
You feel lost. Entirely alone in your struggles, like no one can understand what you're going through.
You desperately wish you had a better handle on things and feel like a failure for your shortcomings.
But this problem isn't unique. The experience is so common that there are memes about it.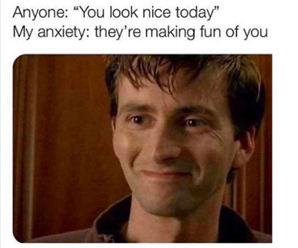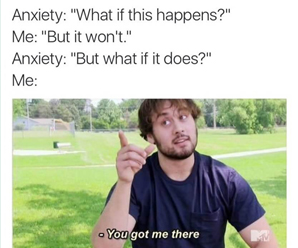 Everyone struggles; it's perfectly normal. Of course, knowing that doesn't make those thoughts and feelings go away. But that's where we come in.
There's no need to do this alone any longer.
You deserve someone in your life with whom you can talk without fear of judgment. You need a place where you feel heard and validated in a completely confidential environment.
One-on-one therapy allows you to collaborate with a clinically trained professional to identify past and present issues causing you pain.
And since no one is an island, we take a relational approach to therapy wherein we examine your relationships and the systems (family, dating, work) in which you play a role.
We can help you move forward.
It's time to learn new ways of thinking and develop the skills to cope with life stressors.
Some goals of individual therapy might include:
Increasing self-esteem.
Learning new coping skills.
Establishing the value of self-care.
Improving relationships.
Let's get started now. We'll walk with you every step of the way. Schedule your free 15-minute consultation today!